Bathroom Remodeling Services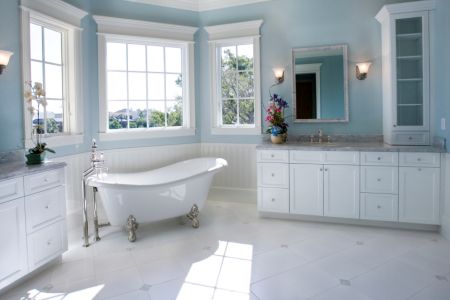 One New Creation is proud to be a local leading bathroom remodeling service provider in New Orleans. When it comes to getting the service that you want and the results that you deserve, it all comes down to which remodeling contractor you choose.
Whether you have a small space to work with or a luxurious larger bathroom, either way, we can provide you with exceptional bathroom remodeling services. Stop seeing this as merely a functional room when we can help make it a spa-like setting that you will actually enjoy spending time in.
Planning a Successful Bathroom Remodeling Project
Unlike a whole house remodel, bathroom remodeling focuses on just this one space. It enables you to really make choices that will improve the look of your bathroom but also enhance the overall user experience.
The focus should be on style and function. You want a user-friendly space that also looks pretty. The key to achieving both is having adequate storage space that helps keep your bathroom organized.
Make sure you have a budget in place before you start the project. Otherwise, you will end up spending too much on details you don't even care that much about, leaving not enough money for the components of the job that you do care about.
Know your priorities and plan your budget and project accordingly. Some people don't care that much about the type of flooring they use while other homeowners can't live without certain types of flooring. Plan ahead so that you can get exactly what you want from your project.
Make sure you choose to work with a professional remodeling contractor who communicates well. You should be partnering together on this project in order to achieve the same goal - the bathroom of your dreams.
Don't choose just any bathroom remodeling contractor in New Orleans, call on our experts for superior service and results. We are dedicated to providing each of our customers with exceptional results.
Recent Articles
Top Do's & Don'ts For Historic Home Renovations
There are plenty of great options available to you for anyone looking for a historic home renovation project in the New Orleans area. Yet the key to success with a renovation project like this is finding a reliable remodeling contractor to work with. […]
Make the Most of Your New Construction With These Expert Tips
Before hiring a New Orleans new construction company, you should already have an idea of the type of results that you want. The only thing standing between your vision of what you want and the reality of it is the professional contractor you hire. […]
If you are looking for an experienced New Orleans bathroom remodeling professional, please call 504-535-5060 or complete our online request form.