Expert Rot & Termite Damage Repair Services by One New Creation in New Orleans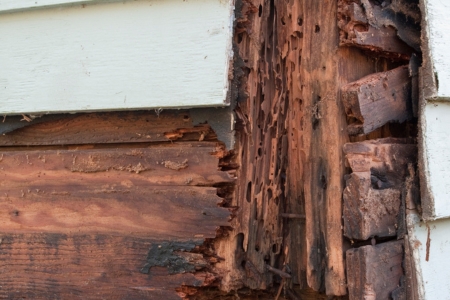 When it comes to addressing the challenges posed by rot and termite damage in New Orleans, One New Creation stands as a trusted leader in the industry. With years of experience and a team of skilled professionals, we specialize in providing top-notch repair solutions to combat these common issues. Our remodeling contractor experts are well-versed in identifying the extent of damage and employing effective techniques to restore your property to its former glory. Whether it's damaged wooden structures or hidden termite infestations, you can rely on One New Creation for comprehensive and reliable repair services tailored to meet the unique needs of your New Orleans property.
At One New Creation, we understand the importance of preserving the structural integrity of your home or business. Rot and termite damage can have serious consequences if left unattended. That's why our dedicated team is committed to swift and efficient repair work, using quality materials and industry-best practices to ensure lasting results. When you choose One New Creation for rot and termite damage repair in New Orleans, you're choosing a partner dedicated to protecting your investment and ensuring the longevity of your property.
Trustworthy Historic Renovation Experts for Rot & Termite Repair in New Orleans
When it comes to safeguarding the historical charm and structural integrity of your cherished property in New Orleans, trusting the right company for rot and termite repair is paramount. At One New Creation, we understand the unique challenges that historic renovation projects entail. With a proven track record in preserving the architectural heritage of this vibrant city, our team possesses the expertise and dedication needed to address rot and termite damage effectively. We are committed to seamlessly integrating repair work into your historic renovation, ensuring that your property not only regains its original beauty but also remains resilient against future threats. Choose One New Creation as your partner for rot and termite repair in New Orleans, and rest assured that your historic gem is in capable hands.
Benefits of Choosing One New Creation for Your Rot & Termite Repair Needs
When it comes to addressing rot and termite damage, selecting the right remodeling contractor is essential for ensuring a successful and hassle-free restoration process. At One New Creation, we offer a multitude of benefits that set us apart as the ideal choice for handling your rot and termite repair needs in New Orleans. Here are some compelling reasons why you should entrust your project to us:
Expertise: Our team consists of skilled professionals with extensive experience in rot and termite damage repair, ensuring the highest quality workmanship.
Comprehensive Solutions: We provide a one-stop solution for all your repair needs, from damage assessment and remediation to structural reinforcement and restoration.
Customized Approach: Every project is tailored to your specific requirements and budget, ensuring a personalized solution that meets your property's unique needs.
Time-Efficiency: We understand the urgency of addressing rot and termite damage. Our efficient processes and project management ensure timely completion.
Quality Materials: We use top-quality materials to guarantee long-lasting results, preserving the value and durability of your property.
Transparent Communication: We maintain open and transparent communication throughout the project, keeping you informed at every stage.
Licensed and Insured: One New Creation is fully licensed and insured, giving you peace of mind and protection throughout the repair process.
With One New Creation, you can expect a seamless and stress-free experience as we restore your property to its full glory, free from the threats of rot and termite damage.
---
Frequently Asked Rot & Termite Damage Repair Questions
How can I identify signs of rot and termite damage in my home?
For rot, look for sagging or discolored wood, a musty odor, and soft spots in wooden structures. To spot termites, watch for discarded wings, mud tunnels along your foundation, and wood that sounds hollow when tapped.
What is the typical process for repairing rot and termite damage?
The process usually starts with a thorough assessment by a professional to determine the extent of the damage. Then, remediation takes place, involving the removal and replacement of damaged wood and extermination of termites. Structural reinforcement may be necessary, followed by the restoration of the affected area to its original condition.
How can I prevent future rot and termite damage?
Preventing future damage involves regular inspections to catch issues early, controlling moisture by fixing leaks and ensuring proper ventilation to deter rot. Installing physical or chemical termite barriers is recommended, and proper maintenance, such as sealing and caring for wood, helps prevent deterioration over time.
---
Recent Articles
Top Do's & Don'ts For Historic Home Renovations
There are plenty of great options available to you for anyone looking for a historic home renovation project in the New Orleans area. Yet the key to success with a renovation project like this is finding a reliable remodeling contractor to work with. […]
Make the Most of Your New Construction With These Expert Tips
Before hiring a New Orleans new construction company, you should already have an idea of the type of results that you want. The only thing standing between your vision of what you want and the reality of it is the professional contractor you hire. […]
If you are looking for an experienced New Orleans rot and termite damage repair professional, please call 504-535-5060 or complete our online request form.