New Orleans Floor Remodeling Services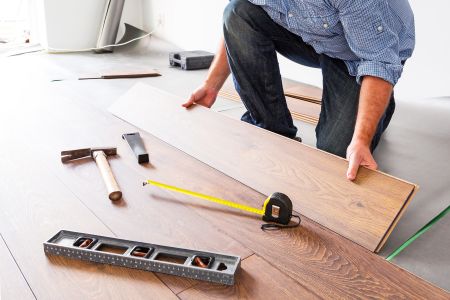 At One New Creation, we take our work seriously. Taking care of floor remodeling for your New Orleans home is just as important as any other details.
It's all part of personalizing your dwelling and transforming your current house into the home of your dreams, even the floor remodeling. Every detail counts and so does the quality of the materials and workmanship invested in the project, which is why you're going to want to give us a call.
Improving Your Home From the Floor Up
When you're ready to make changes and need a remodeling contractor to take care of something like installing tile, give our experts a call. The floor remodeling aspect of changing your home is as vital as any other part of it.
So how do you narrow down your choices and pick the perfect flooring?
Consider where the flooring will be installed. This means making choices based on the amount of traffic or if it is an area with high moisture.
Having children and pets can influence your decision, too. You need something that will be able to better withstand the wear and tear your floors will be subjected to from these members of your household.
Of course, we can't overlook the importance of finding something cost-effective that fits into your budget. Your flooring shouldn't break the bank.
Be realistic about the amount of maintenance required. Don't end up getting a type of floor that requires constant cleaning and a lot of upkeep, if you're not up for the amount of work involved.
Last but not least, you should be able to find something you love the look of. The trick is to find something that checks all the boxes, including enhancing the visual aesthetics of the interior design elements of the home.
Don't take chances or end up settling for anything less than the best. Get in touch with us for the finest possible floor remodeling in New Orleans.
Recent Articles
Top Do's & Don'ts For Historic Home Renovations
There are plenty of great options available to you for anyone looking for a historic home renovation project in the New Orleans area. Yet the key to success with a renovation project like this is finding a reliable remodeling contractor to work with. […]
Make the Most of Your New Construction With These Expert Tips
Before hiring a New Orleans new construction company, you should already have an idea of the type of results that you want. The only thing standing between your vision of what you want and the reality of it is the professional contractor you hire. […]
If you are looking for an experienced New Orleans floor remodeling professional, please call 504-535-5060 or complete our online request form.